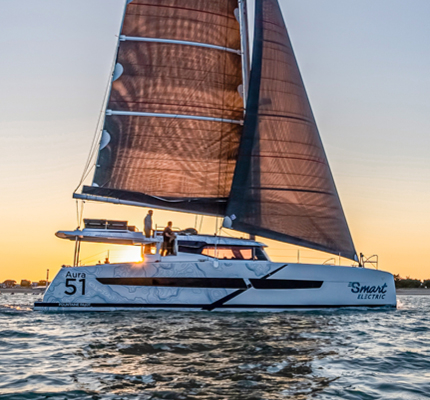 ECO SAILING: GOING FURTHER WITH THE AURA 51 SMART ELECTRIC®
By 2030 all the catamarans delivered by the group should be 100% electric. To achieve this goal, the Shipyard has created an innovation platform, OD Sea Lab, and before doing anything else, has carried out a 360° audit of its carbon footprint based on the independent GHG protocol (Greenhouse Gas Protocol).
"Aware of the urgency of preserving the planet, we are living through a great cultural change and the new generation expects much of us at the dawn of this new era and these realisations. Our owners are also changing their needs and today expect their boat to be more environmentally responsible, while maintaining a high level of demand in terms of comfort. As part of an external audit, it has been established that 20% of our carbon footprint comes from production and 80% from the use of the boats."
Romain Motteau, Deputy CEO.
THE FIRST ELECTRIC MOTORS ON THE AURA 51 SMART ELECTRIC
With only one internal combustion engine for 2 electric motor, the Aura 51 is slowly moving towards all-electricity. This Aura 51, the new model from Fountaine-Pajot, differs from her 4,000 predecessors by the new technology she carries. The advances involve the two pods, one under each hull, that propel the boat at the same time as their hydrogenerator is producing electricity, in addition to the energy provided by the solar panels
We started the smart electric project more than a year ago. Fountaine Pajot partnered with several French companies, recognized for their expertise in power electronics, energy management, and marine propulsion. Our objective was not only to design a boat with an electric motor, but we also wanted to develop a new approach by designing a fully electric boat offering a new experience in life on board and the use of the boat.
It's a whole new experience for our customers, a zero-emissions experience, an experience marked by silence! This ambitious project proves the capacity of the Fountaine Pajot group to move quickly towards the elimination of carbon from our cruising. The architecture of this system incorporates powerful and highly efficient electric motors tailor-made for our boats, they are equipped with fixed or folding propellers designed specifically to optimize performance. These motors are also designed to produce the maximum energy in a hydrogeneration mode under sail.
To allow complete management of energy on board, we have also developed tailor-made electronics to manage all the energy flows of the catamaran. Energy for propulsion, as well as Energy for life on board in direct or alternating current. The system also manages the boat's energy production, including solar panels, hydrogeneration and, if necessary, automatic production by the single generator! We use high-capacity lithium batteries for storage, allowing several hours of motoring and ensuring high levels of self-sufficiency when at anchor!
In addition, fully custom-developed software allows you to control the entire system. It integrates a new complementary interface to manage the propulsion, but also the consumption and production of energy in real time! The Aura 51 Smart Electric is the result of collaborative work carried out by more than 60 technicians, engineers, electrical experts, who have actively worked for several months to develop a unique experience.'' A great demonstration of the OD Sea Lab innovation platform.''
Mathieu Fountaine, Deputy CEO, and head of the Smart Electric project.